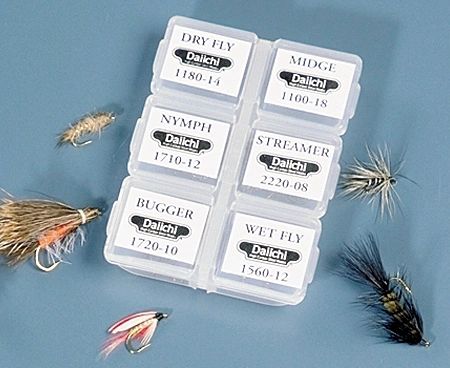 This kit is ideal for beginners and offers a great value! Comes with a reusable 6 compartment hook box with flip lids containing 10 each of the 6 most popular Daiichi hooks listed below.
1180 - #14 Dry Fly
1100 - #18 Midge
1710 - #14 2X-Long Nymph
2220 - #8 4X-Long Streamer
1720 - #10 3X-Long Bugger
1560 - #12 Wet Fly
Daiichi Fly hooks are the finest in the world and here's why:
They are made of the finest high carbon steel, which is hardened and tempered to an exacting formula that makes for a long point life and a very strong hook. Daiichi hooks use a 12-degree constant taper ground needle point. This eliminates irregularities in shape, assuring no weak spots, & gives amazing speed of penetration. Daiichi hooks are also chemically sharpened in a special bath that deburs their points. Daiichi hooks come in multiple finishes that are all evenly and smoothly applied. Each hook is precision tooled "true" to the exact design of the eye, bend, gape & barb. The barbs are an advanced "low profile" design that results in minimal weakness and less broken hooks and lost fish.