Tenkara: Radically Simple, Ultralight Fly Fishing - Kevin C. Kelleher, M.D. & Misako Ishimura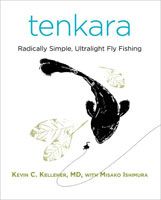 *Standard Shipping Only
Softcover - 160 pgs.
Casting is so simple it is nearly intuitive, and can be learned in minutes.
With Tenkara, there is no reel & the line hitched directly to the end of the long rod, imparting an element of highly functional simplicity. At the same time, the Tenkara rig can turn over a cast of such grace that it nearly guarantees a light & effective presentation.